Ghost Project
Presented at: the Roundhouse Community Arts and Recreation Centre, Vancouver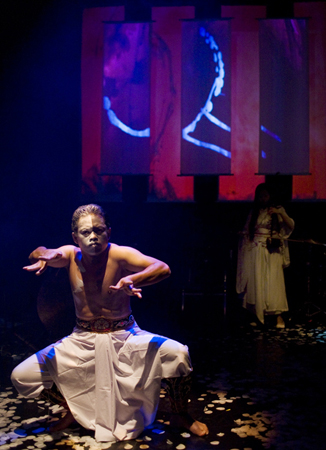 Through music, media arts, dance & scenographic installations, the artists look into their own cultures, Canada, Taiwan, China, Eastern Europe and Indonesia, to explore the philosophy of yin and yang and search for a connection between humans & spirits. Ghost Project tells the story of a love crossing the boundary between life & death, depicts different shapes & forms of ghosts, and celebrates joy & sorrow in cycles of life.
The music combines the modes, rhythms, and interlocking patterns in Indonesian music, with the lyrical phrasing and breath in Chinese music, and the harmonies and precision in western music. The Ghost Project features Canadian composers Barry Truax, Jin Zhang, Kenneth Newby, Sutrisno Hartana, Farshid Samandari, Lan Tung and Ya-wen Wang. Their works are in different combinations of erhu & zheng (China), sulin, gender & rebab (Indonesia), western percussion instruments, voices, and electronics, creating a rich sonic environment.
Ghost Project combines Asian esthetics with modern video technology, expressed through abstraction and suggestion. Media artists Aleksandra Dulic and Kenneth Newby use interactive audiovisual techniques to capture and transform the music into spectral forms to complement the live performance and represent "ghost images" or spectral doubles. Using ancient mythology and folk arts as raw materials, the animated visuals are projected on seven screens constructed in the style of Chinese scrolls. The dramatic setting includes a partially lit white lantern hung from the ceiling like the moon. Thin white paper petals covered the entire floor. All performers wear black and white costumes and dramatic make up.