Research Interests
My research interests are centered on art and design research/creation with a particular focus on issues that arise at the boundaries of inter-cultural community, learning, performance and computing. The theoretical investigation in my work is based on a cross-cultural study of social media and art, both through the investigation of media genealogies that influence the developments of emerging digital media art and design practice, as well as through an analysis of media forms that have developed across different traditions and cultures. The interactive events are contextualized within a cultural and local knowledge, crafts and traditions with a potential to reflect a variety of approaches in new media: from media performances, installations, and activism to culturally reflective computing and interface design. The situated interaction with media acts as a socially active agent that communicates culturally significant meaning. Media symbols and interactive processes are instruments for social action that contribute to rapid societal transformation.
In my research I position artistic and design practice as the basis of innovation, theoretical articulation and contextualization. I approach my research as an artist / scholar with practice-led endeavors, which means that my praxis and contextualization, both historical and methodological, is grounded in an art practice as situated form. Within an artistic research new knowledge is embedded in both the artefact and reflection on that artefact. The use of artistic methodology as a research process also provides a dynamic theoretically grounded training for students to gain insights and skills in advanced creative and conceptual techniques in fine art. Scholarly intention and a concern with the analysis of the process of creation enable a new situation to emerge: the artistic work is situated as an experimental research laboratory where theoretical concepts are developed, tested and modified and related contextual disciplinary fields are located to be further analyzed outside of the particular artistic production. Every artwork developed within this framework acts as a research experiment and, as a result, embodies this dynamic and iterative cycle. It is through this iterative process that artistic, technical and methodological innovations are identified and articulated.
The positioning of art projects as a research laboratory allows me to include my students at various levels from undergraduates to graduates as an integral part of my scholarly research practice as well as to make strong links with the larger community of partners and stakeholders. This includes training of undergraduate, graduate students and other community participants as highly qualified personnel in techniques and practices of gaming for change, media design, interaction and software for large-scale art productions. In this way students are given invaluable real-world experience in the context of professional media production and presentation while learning the skills needed to produce their own works in these media. Graduate students engage the higher level skills involved in a scholarly approach to practice-based research which includes reflective practice on artistic processes involving the production of research reports, literature searches and reviews. To this end, I established the Center for Culture and Technology at the University of British Columbia Okanagan with a mission to provide a research space and resources to support faculty and students in conducting such practice-based research activities.
A key role of the Centre is to advance research/creation processes and theoretical discourses in the dynamic field of culture and technology in order to address rapid changes in technologies themselves as well as their reflection of, and influence on our cultures and communities. Through this focus the Centre fosters innovation in computer based multimedia technology and its associated art-making practices by building bridges between technology, community and culture. The Centre promotes research that brings together art and science to develop a critical awareness of the dynamic relationship between culture and technology. The infrastructure includes a black box studio space with markerless motion-tracking, 3D scanning, laser cutting, multichannel audiovisual diffusion and interactive physical computing and software prototyping technologies. The Canadian Fund for Innovation (CFI), the British Columbia Knowledge Development Fund (BCKDF) and UBC Okanagan funded the Centre's Infrastructure.

My current research program can be divided into three main vectors:



1. Research in interactive installation with multi-channel audiovisual display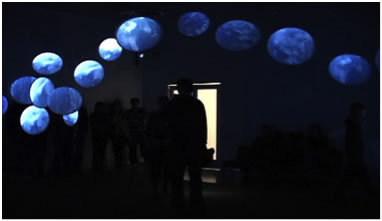 One River Running Plan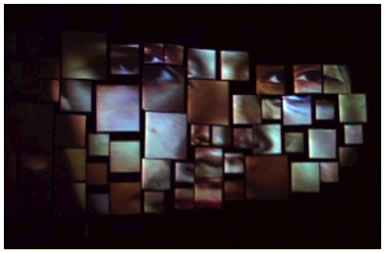 in a thousand drops... refracted glances
Research in interactive installation with multi-channel audiovisual display is centered on the creation of situated media artworks that take the form of interactive open work documentary installations. I characterize situated media as an event where social practices, contextual, spatial and temporal considerations of the participating group are braided together into a communicative artistic whole (Schechner, 1985). Situated media is a form of open work that allows for braiding together of spatial, time-based and contextual factors. The concept of openness in a work of art refers to arrangements of its elements that are open to different interpretations on the part of the audience, performer and reader (Eco 1962). The concepts of both situated and open media forms are significant for their striking anticipation of several major themes in digital media research: the element of multiplicity or plurality, and the insistence on an interactive process between the participant and an interactive artwork as well as the consequent effect on its reception. While the research, creation and production of media objects and images is inherited from both linear media and embodied gestural expression, my approach to digital media art takes advantage of basic forms of computational media such as database, interface and interaction design as well as the rich genealogies of media across cultures. These production and composition strategies extend to structuring databases, categorizing and labeling media objects, and developing processes for media selection and display. The image and its relationship to computation and flexible time-based multimedia structures provide another axis for this research with the goal of creating experiences of imaginary worlds, reality, nature, people and places through multi-media events, offering conversations with other minds and imaginations in an attempt to educate, illuminate, persuade, and entertain.
Several interactive installation art research projects have enabled the exploration of new directions in audiovisual multi-channel display, media diffusion techniques and database forms enabling the creation of interactive and fluid content presentation across hundreds of simultaneous display channels. This required the development of an integrated Media Diffusion software environment for interactive multi-channel video and audio composition. The objective of the media diffusion system is the support of an arbitrary number of coordinated discrete screens and sound sources that can be algorithmically correlated interactively with machine vision and listening modules through A/V capture and analysis. This research is a collaboration between Aleksandra Dulic, Kenneth Newby and Martin Gotfrit and was funded by the Social Sciences and Humanities Research Council, the Beall Centre for Art and Technology (University of California, Irvine) and the Surrey Art Gallery and involved a team of undergraduate and graduate research assistants.

Current developments in this area include research into the integration of sound diffusion with the visual projection screens so that each diffusion point becomes an integrated audiovisual projector. This research is being developed in partnership with Alex Stahl, Pattay Clements and Kenneth Newby. In the area of interaction design, and in collaboration with Dr. Homayoun Najjaran, we developed facial software that detects emotional states in human subjects and act as a sophisticated interface for participant interaction and data collection.
Dulic, A., Kadish, D., Najjaran, H., & Newby, K. 2015.The Order of Passions—A Portrait of Polyphonic Canada. Proceedings of the 21st Interanational Simpsium on Electronic Art, ISEA 2015: Disruption.
Dulic, A. & Newby, K. (2015). Generative Approaches for Meaning Making in Art. (ed) Sicchio, K. & Baker, C. Techne/technique/technology. Routledge (forthcoming)
Kadish, D., & Dulic, A. (2015). Crafting sustainability: approaching wicked environmental problems through high–low tech practice. Digital Creativity, 26(1), 65-81.

Dulic, A., Newby, K., & Gotfrit M., 2008, in a thousand drops... refracted glances, Association for Computer Machinery (ACM) multimedia conference proceedings;

Dulic, A., Newby, K., & Gotfrit M., 2007, Hybrid Spaces — Open Composition for an Immersive Environment, Canadian Theatre Review, CTR 129, Essays on Contemporary Practices in Sound Design, ed Andreas Kahre, the University of Toronto Press, ISSN: 3398-20983



2. The research in interactive media performance and instrument design
Research in interactive media performance and instrument design is centered on the exploration of a balance of embodied skills, i.e., drawing, painting, musical gesture, etc., with the ability to dynamically mediate these in a computational media environment. This artistic research area entails the integration of hand drawing, animation and gestural expression within a practice of digital media installation and media performance. This research draws on primary research in the long history and practice informing contemporary performative traditions that effectively address their communities for social balance and sustainable change. Based on this research we have been developing the Performing Animator — an integrated system for the generation, display and performance of audiovisual media. This instrument, designed to enable the creation and composition of live animations in a performance context, has been under development since 2002. It features a variety of methods for generating, sequencing and transforming animated clips. Compositing techniques as well as custom designed effects are also encoded in this application. In addition to the animation clips composed in the performance context a large database of clips can be loaded for mixing, processing, compositing and montage in performance. This research is collaboration between Aleksandra Dulic and Kenneth Newby and supported by SSHRC and various commissions. Recent productions Gold Mountain Dream and Mountain High River Flow co-produced with Orchid Ensemble focused on depictions of Chinese Canadian communities.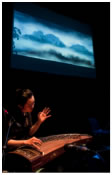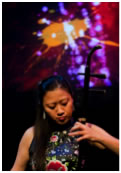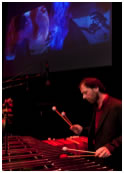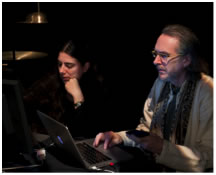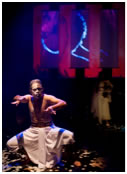 Other research in this area focuses on how meaning can be communicated through novel approaches to sensing, modeling, interaction, and feedback, i.e. an intelligent space for performative action. The Visual Music research project focused on the development Max/MSP/Jitter tools for creating animated structures to visualize various aspects of musical forms and gestures in a live performance context. The goal of this research is to develop compositional processes and structured improvisational strategies for visualizing musical phrases and performance gestures. This post-doctoral research was conducted in collaboration with Dr Keith Hamel (UBC Vancouver) and funded by the Social Sciences and Humanities Research Council.

Dulic, A., & Newby, K., 2011, Performing Animator Instrument for Live Media, International Symposium on Computational Aesthetics in Graphics, Visualization, and Imaging, Vancouver, Conference Proceedings
Dulic, A., and Hamel, K., 2009, Visual Music Instrument, International Journal of Arts and Technology (IJART), pp 22-39 Special Issue on: Digital Art ed A.L. Brooks, Vol. 2 No. ½ (pdf) http://www.inderscience.com/info/inarticletoc.php?jcode=ijart&year=2009&vol=2&issue=1/2

3. Research in 3D game and interaction design for local and community based sustainability awareness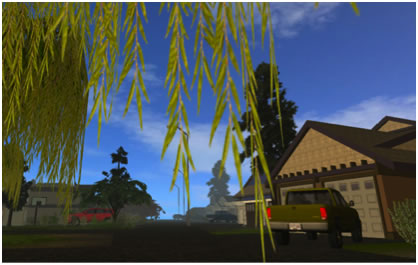 Present day Delta, BC game screen capture
Research in 3D game and interaction design for sustainability awareness is focused on the research and development of the Future Delta game simulation - a time-forward 3-D visualization and simulation tool that aims to motivate actions, behavioral change and educate players about climate change mitigation and adaptation solutions and challenges. The game simulation is situated in a recognizable community locale: the flood-prone neighborhood of Delta, BC. Combining climate change modeling, socioeconomic scenario analysis and 3D modeling of real places with engaging soundscapes and imagery, our game is designed to make climate change science and solutions more salient and understandable to the layperson. The project comprises a game simulation and dynamic 3D visualizations of future local climate change scenarios to provide an environment for experiential learning tied to place attachment. The project builds on a foundation rich in research, experimentation, and production in the topic of climate change in Delta, but extends previous work into a new representational platform of virtual game simulation.
This research is in collaboration between Dr. Aleksandra Dulic (Creative Studies, UBC Okanagan) and Dr. Stephen Sheppard (Forestry, UBC Vancouver) and involves a team of undergraduate and graduate research assistants over the period of 2009/2017. This research is funded by a grant from the Social Sciences and Humanities Research Council (SSHRC), University of British Columbia work study program. View video
Angel, A. LaValle, A. Sheppard, S. & Dulic, A 2015 Future Delta 2.0 - An Experiential Learning Context for a Serious Game about Local Climate Change, SIGGRAPH Asia 2015: [Re]Volutionary, November 2-5, Kobe Japan, ACM publications (pdf)
Sheppard, S. J. R., Flanders, D., Matthews Iype, D., Lavalle, A.,Dulic, A., Angel, J., Schroth, O., Jeri, P., Wardle, E., Sinckewicz, N. (2015). Exciting high school students about climate change with a co-designed, educational videogame: Future Delta 2.0.   Our Common Future Under Climate Change, International Scientific Conference, Paris, France.
Schroth, O., Angel, J., Sheppard, S., and Dulic, A., 2014, Visual Climate Change Communication: From Iconography To Locally Framed 3D Visualization, Environmental Communication, 8(4), 413-432.
Dulic, A., Shirley, M., Schroth, O., and Sheppard, S., 2011, Future Delta: Motivating Climate Change Action Grounded in Place, 10th International Conference on Entertainment Computing, Conference Proceedings