Mountain High River Flow
Media composition and animation - Aleksandra Dulic and Kenneth Newby
The visual material was created with assistance of University Of British Columbia Okanagan Students:
Rankine Suen, Oliver Szeleczky, Nadine Bradshaw, and Michelle Wilmot
Producer - Lan Tung
Videography - Nenad Stevanovic
Composers - Rui Shi Zhuo, Dorothy Chang, and Lan Tung
Music Performance by Orchid Ensemble: Lan Tung (Erhu), Yu-Chen Wang (Zheng), Jonathan Bernard (Marimba)
Mountain High River Flow is an live cinematic performance produced as collaboration between the media artist: Aleksandra Dulic and Kenneth Newby and Orchid Ensemble. The performance features stunning animation of panoramic moving images of China's famous Huangshan (Yellow Mountain). Combined with live music performed on the ensemble's cross-cultural instrumentation, the performance leaves the audience feeling as if they have stepped inside a Chinese painting that is coming to life all around them.

The imagery, done in traditional Chinese brush-painting style, captures the ever-changing landscape atop the Yellow Mountain – the fast-moving sea of clouds, the unusually-shaped stones and pine trees, the white waterfalls and green ponds, and the singing birds– all moving in sync with the music. Software developed by media artist controls the video images with musical signals. As a result, the scroll acts as an instrument that allows the artists and musicians improvise together, co-creating the media image and transforming the ancient art forms.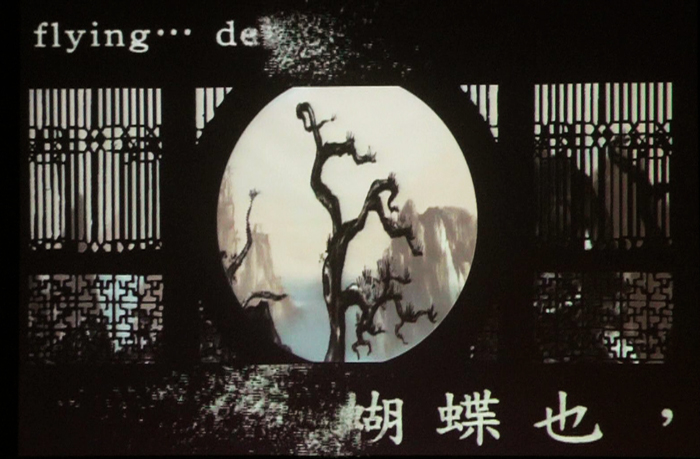 In keeping with ancient Chinese tradition, the works draw inspiration from the landscape to express humanity and emotions. Consistent with Chinese philosophy, the mountain and water also constitute all aspects of nature in two poles - yin and yang. The sense of breath that flows through all different forms of Asian arts – music, dance, painting, and calligraphy – is an unifying element between the different components of the project.
The new musical works include the world premiere of music by Rui Shi Zhuo (pr. Roo-AY Sher Joe) (Canada/China), and the Canadian premieres of pieces by Dorothy Chang (Canada/US) and Lan Tung (Canada/Taiwan).
The work was presented on January 15, 2011 at the Roundhouse's Performance Centre We thank the generous support of the Canada Council for the Arts' Inter-Arts Program for the research and creation of this project, and the Music Program for the new commissions from Zhuo and Chang, the BC Arts Council, the SOCAN Foundation, and University of British Columbia, Okanagan (UBCO) Internal Research Grant, UBCO Work Study Program, and UBCO Creative Studies Department.