2014/15 Visa 300 C (3) / 300 D (3) Advanced Drawing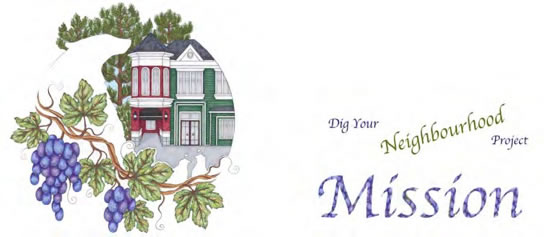 Image: DYN Mission Logo By Ardanna Semeschuk
The focus of this course is to enable students to apply drawing skills in a real-life situation in the community.  The course aims to develop specialized skills for success in professional practice and to introduce students to the importance of interdisciplinary and collaborative modes of applied work. The course intends to introduce students to a project that brings their advanced artistic skills into the community in a way that is relevant to the students and to the community. The course focuses on a community-specific drawing project Dig Your Neighbourhood: Mission.

Image: DYN 2015 Posters by Nicola Parker



Image: DYN 2015 Cards by Yvonne Chen

2014/15 VISA 264 (3) / 265 (3) Computer Image Development
The course provides the compositional and production bases of digital art and design through contemporary examples and theoretical ideas presented in the lectures as well as project based learning of the practical concepts and skills investigated through the lab exercises, workshops and assignments. The course is focused media communication as a process of sending and receiving messages using media images. Students are introduced to the group of skills that enable them to effectively read and write visual language for intentional communication with others.
Students will develop ability to successfully decode and interpret digital media messages and to encode and compose meaningful digital media communications. The course culminated with media art installation presented in the FINA Gallery.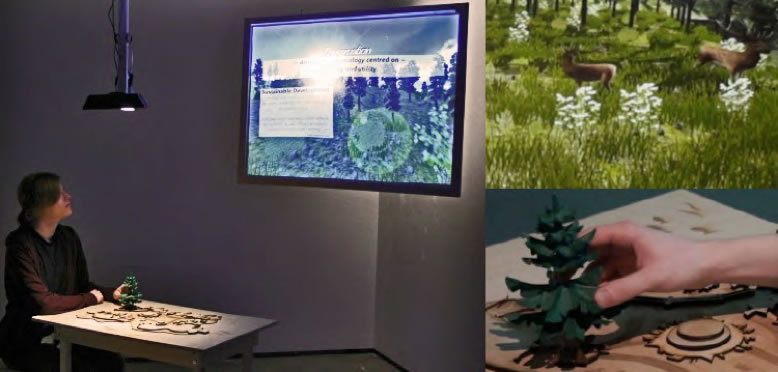 Image: Building Futures Interactive Installation 2015 Elias Wardle et al. (VISA 265 Gallery Exhibit)

2013/14 IGS 506 (3) Creative Research methods

The aim of the Creative Research Methods course is to initiate a discussion and develop a shared understanding of central questions that inform artistic research. Artistic research can be defined as research grounded in a contextual and situated engagement with artistic practice as an enquiry surrounding the creation of and reflection on performances, images, words, objects, events, networks or other artistic interventions.
2013/14 Visa 300 A (3) / 300 B (3) Advanced Drawing



This upper division studio course explores formal and conceptual issues in the visual arts through contemporary drawing practices contextualized within a variety of drawing methods. Artwork reviews, individual research, studio practice and projects are structured to help students further develop and expand drawing skills and gain a deeper understanding of what defines drawing in the 21st century. Students engage in analyses of contemporary and historical drawing practices as a context for the development of their projects and personal body of work. Projects start from the practice of 2D recording and mark-making and move to a temporal understanding of drawing as process oriented methods suitable for exploration of gestures as movement in time. Focus on gesture and movement leads to spatial exploration of drawing as marking across landscape or space. Students are encouraged to push the boundaries as they investigate materials, subject matter, process and interpretation related to image making. http://pinterest.com/aleksdulic/boards/
Image: Changing Seasons 2015 Dianne Schnieders et al. (VISA 300 B Gallery Exhibit)

2013/14 Visa 283 (3) Drawing
2012/13

This course is intended to build drawing skills, confidence, as well as critical and independent thinking. This is accomplished through a comprehensive and balanced delivery of theoretical information, technical demonstration and studio practice. The course prepares students for advanced studies in related disciplines. Historical and contemporary art references and exposure to art language and concepts give students a solid foundation on which to develop an independent approach to their art.

Image: Dion Kaszas Map of Canada representing an Indigenous perspective on the Canadian land and territory, VISA 283

2012/13 IGS 530 Inter-media Studio

This graduate level studio course explores intermedia art as a creative practice that blurs the line between and among both traditional and digital media. The course is designed to provide a laboratory/workshop opportunity for students to develop their interdisciplinary art skills with a focus on artwork production, reflection on art practice, and critical discussion. The course provides an opportunity for students to explore a wide range of possibilities for contemporary artistic production and to develop mobility among media, which is critical for the creation of innovative and socially relevant artwork. Course assignments focus on both the creative and critical aspects of studio practice and are structured to enable students to examine the poetics of intermedia art and its impact on culture. The course provides an understanding of the historic and theoretical underpinnings of intermedia artwork through screenings, readings and discussions. Informal and formal presentation and critiques of artwork are central to the course, requiring from students a high level of personal initiative and commitment.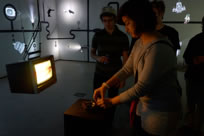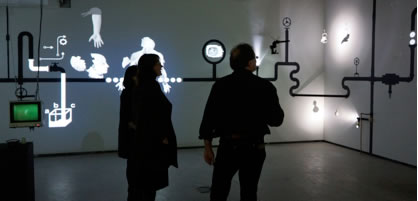 Meaning, content and ideas embedded in the artwork are as important as technical proficiency and sophisticated finish. Collaborative work that integrates traditional and digital art solutions is encouraged. Technical workshops are offered routinely focusing on introducing students to both programming for artistic applications using Max MSP & Jitter and Processing, as well as strategies for integration of traditional and digital art.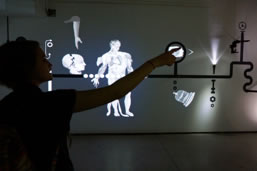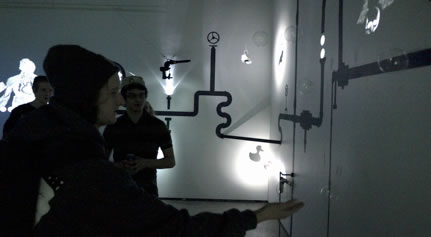 Documentation: http://www.ubc.ca/okanagan/fccs/programs/undergraduate/visualarts/studentwork.html
2010/11 VISA 460 (3) Special Topics in Visual Art: Electronic Art
This fourth year course is focused on practice and theory of electronic art, through lectures, discussions and workshops, with emphases on the artistic, conceptual and expressive quality of produced artwork. The course provides an introduction to computer programming for artists using the MaxMSP & Jitter programming environment. Students exhibit their final interactive installations in the UBCO gallery at the end of the year.


2010/11 VISA 264 (3) / 265 (3) Computer Image Development
2009/10
This second year course provides an introduction to the compositional and production bases of digital art making and the graphic industry through contemporary examples and theoretical ideas presented in lectures as well as project-based learning of the practical concepts and skills investigated through the lab exercises, workshops and assignments.
2011/12 VISA 102 (3) /103 (3) Drawing and Two-dimensional Practices
2009/10

Image: Oliver Szeleczky, VISA 102 bird flying and horse running animation image sequence



This foundation course introduces students to the principles, practices, and concepts central to drawing, two-dimensional art and pictorial form. Approached as a synthesis of disciplines the course focuses on historical and innovative approaches to pictorial representation, as well as the uses of materials, processes, supports and methods of composition. Emphasis is placed on the ways in which these may be tied to the major concepts and practices behind contemporary visual expression.

Image: Rankine Suen Wai Yin and Frances Rush VISA 103


2011/12 VISA 482 (6) / 483 (6) Advanced Art Practices
This intensive course is a capstone course for fourth-year Fine Arts students in all areas. In consultation with a faculty advisor, students propose a program of study, with an option to pursue work in their chosen area or work in a multi-disciplinary program. Outside reading is required and students engage in seminar and group critiques.
2009/10 IGS 530H (3) Directed Study VISA: Creation of a Video Installation
Under the direction of Dr Aleksandra Dulic, MFA student Andrea Garrett completed a video installation work and performance that will be part of the student's research project called BioZest. Andrea created a video installation, as well as a video performance, that deals with food production from the ground to the table. The course presents the student with models of video installation and performances and these are studied for their use of spatial design, composition, arrangement, performative expressions and other techniques.
2010/11 IGS 520F (3) Directed Readings in Improvisation
Under the direction of Dr Aleksandra Dulic, PhD student Stan Chung completed a general and interdisciplinary annotated bibliography focused on improvisation. The goal of this annotated bibliography is to review the critical literature necessary for defining the term improvisation and its evolution across different disciplines.
2010/11 IGS 530M (3) Directed Study VISA: Electronic Art
Under the direction of Dr Aleksandra Dulic, MFA student Maggie Shirley completed an interactive sound installation work that formed the basic prototype for her MFA research project.
2010/11 VISA 400 (6) Practicum
This course allows students performing professional work to receive credit towards the B.F.A. degree.

2005/11 Theories and Models of Digital Media Art, Interdisciplinary Doctor of Arts Program, Group for Polymedia Arts, University of Arts in Belgrade

This Doctor of Arts course presents theories and models of digital media art, through lectures, discussions and workshops. The course endeavors to blend aesthetic theory and criticism with practice and experimentation. The classes are structures in a practice-based studio context with a strong emphasis on complementary theoretical discussions and readings, designed to support student's production of finished artwork. The lectures cover the practical and the theoretical concepts that underline the use of computers in the context of media artwork. We view examples of how artists and designers are using computers to create interactive installations, software art, motion graphics, information visualizations, network projects, new forms in architecture and design, and other still-to-be-defined forms of art. We discuss the key new intellectual and cultural concepts introduced by computers such as interactivity, databases, network, artificial intelligence and artificial life.